In April
2013
Marks Are Due, This Time Of Year - So:
Our "consumer reporter", Sylvia Greene tested and evaluated products to mark fabric - and passed onto us her opinions!
Which ones get a star...which one's to avoid?
How to remove the markings?
And, how do you decide which one is best for your current project?


1-Min. Movie
In March
2013
Meet Peggy Forster
Peggy started quilting with Georgia Bonsteel's first show on WUNC. When everyone in her family had a bed quilt, she switched to wall art quilts.
Not willing to repeat the same process over and over, she looked for inspiration wherever it could be found. Her work is a mix of various methods and is constantly evolving.

2-Min. Movie
In February
2013
What Are These Used For?
Ann, of our staff, discussed: Spanish hem stitch attachment, double needles, wing needles and triple needles -- You might have heard the names but what do you do with them?
We found out!


Some Customer Show-and-Tell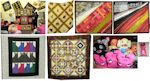 3-Min. Movie
In January
2013
Carolyn's Two Days of sew, sew, sew!

If I had 2 days to just sew, sew, sew.... what would I do?!

I have this list of things I want to try one day.. so this first week of January was the week! Carolyn shared her bits and pieces with us at our January Bernina Club.