QuiltAlong 2022 Interest Webform - Bernina World of Sewing
---
If you have already filled out the store's 2022/2021 QuiltAlong Survey (perhaps you had such as part of the QuiltAlong Feathered Friends get-together on December 18, 2021 held at the Raleigh store's Bernina Studio) you can just ignore the following).
Thank you, in advance, for taking the time to fill out some/all of the following Webform. The information is aimed at helping us to make the 2022 QuiltAlong as good an experience for you as we can.
If you prefer to fill out the information in hardcopy, please print off the PDF below and just drop it off at the Raleigh or Wilmington store the next time you visit us. The PDF is at: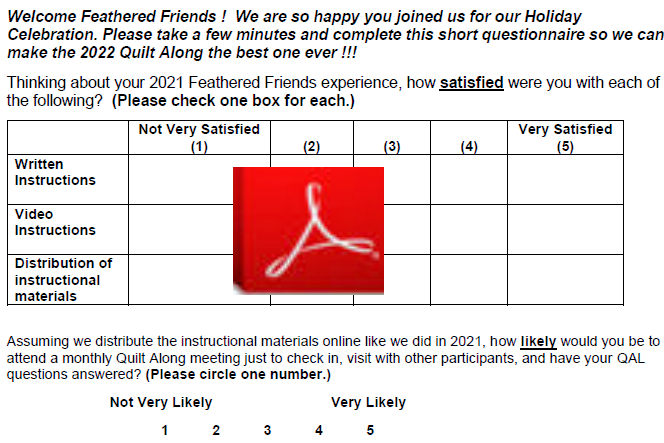 2022/2021 QuiltAlong Survey PDF
---
After filling out your information, below, click on the
Send to Bernina World of Sewing for QuiltAlong 2022/22 Feedback button at the bottom of the Webform.
If you have any questions/problems, just: :
send mail to: QuiltAlongFeedback at Bernina World of Sewing dotcom
The Webform is below. Thank you, in advance, for your time/information.