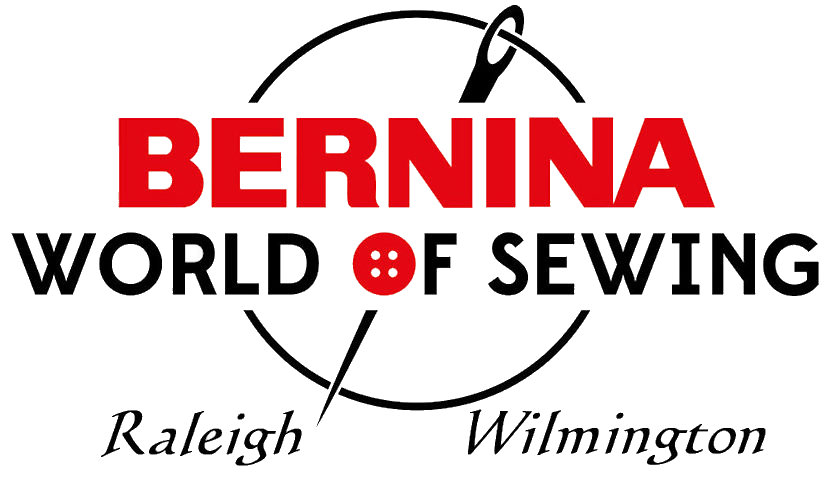 Bernina World of Sewing
A World of Stitching at Your Fingertips!
Oak Park Shopping Center 6013 Glenwood Ave, Raleigh, NC 27612-2601
Raleigh Phone: (919) 782-2945 Hours: Mon-Sat 10-5,Sun 1-5
Wilmington: 4403F Oleander Dr, Wilmington, NC 28403
Wilmington Phone: (910) 769-2775 Hours: Mon-Sat 10-5
Machines
After browsing the News, below, click on any machine for more information about that particular machine.
You will be viewing that on the Bernina USA Website.
---
BERNINA and bernette Refreshing! Event:
June 1 -thru- June 12
Special prices on BERNINA and bernette Machines

Limited-Time Financing

- and More -

While continuing to take advantage of all our In-Store machine / fabric / pattern / software / more sales and events with Web-Shopping 24-7.
With the Annual BERNINA University coming in June... Stay tuned for all the announcements / excitement THAT brings to us/you...

Browse the June Refreshing PDF


---

June 1 thru June 30:

| | |
| --- | --- |
| Accessory of the Month | Special bernette Prices |
---

---

BERNINA Tiered Savings

L 8 Series & 5 Series
$500 off MSRP
7 Series
$700 off MSRP
8 Series
$800 off MSRP
Q Series Longarms
$1,000 off MSRP




---

BERNINA Special Buy!
Move into BERNINA Machines or perhaps you are looking for a BERNINA to carry to classes:




---

bernette Special Prices

b05 CRAFTER
$299 (MSRP 465)
b05 ACADEMY
$349 (MSRP 535)
b64 AIRLOCK
$999 (MSRP 1,735)
b77
$999 (MSRP 1,999)




---

Special Limited-Time Financing

For Five Days


0% Interest for 48 Months $3,000 or more
June 8-12 2023

0% Interest for 60 Months $4,000 or more
June 8-12 2023




Financing Options Including:

*48 mths... $3,000 or More
**60 mths... $4,000 or More
Using BERNINA Credit Card
June 8-12 2023

*48 / **60 months on purchases * $3,000 ** 4,000 using your BERNINA Credit Card. Equal Monthly Payments Required: June 8-12 2023

---
---
---
Pre-Buy BERNINA Planning Web-form
If you are interested in a Web-form regarding "Some matters to keep in mind as you begin a journey to purchasing a sewing machine", please click on:
Some matters to keep in mind....


If you are prefer to view the Some matters... Web-form in PDF format, please click on:

---
We look forward to working with you to meet your sewing objectives. We offer a full line of BERNINA and bernette machines, machine mastering classes (free classes that assist you in getting started with your BERNINA and bernette machines), service for your machine, classes for the beginning and experienced sewer, sewing accessories, over 4,000 bolts of 100% cotton fabric plus some specialty fabrics - and: more.

See you soon, at our store!


Bernina World of Sewing
6013 Glenwood Ave, Raleigh, NC 27612-2601
Phone: (919) 782-2945 Hours: Mon-Sat 10-5, Thurs. 10-6 Sunday 1-5pm
Send eMail to: Info at Bernina World of Sewing dot com
Bernina World of Sewing - Wilmington
4403 Oleander Dr, Wilmington, NC 28403
Send eMail to: Info at Bernina World of Sewing Wilmington dot com
---
| | |
| --- | --- |
| Note: Machine prices shown on this Web page may be different than you would find in the store. It is intended that this page reflects current in-store prices for those shown-machines -- however, prices are a moving-target: So rely upon your visit to the store for final prices. Thank you. Also, keep in mind that ALL machines sold at Bernina World of Sewing includes sew-in before the sale and a Machine Mastering session to assist in your becoming familiar with the machine. | For our store's Machine Mastery videos, click on the following: |
Any questions or comments, please:
send mail to: MachineInformation at Bernina World of Sewing
---
---
Looking for an Overlocker? Try the New BERNINAs

BERNINA L890 Overlocker
Truly a revolution in Overlock and Coverstitching

One-Step BERNINA Air Threader
Intuitive operation via touch screen
Fast, precise & quiet
Extremely convenient
Total Stitch Control

for more information via the BERNINA Website, go to::
L890 Info on BERNINA USA Website

BERNINA L860 Overlocker
Overlocker with color touch screen

One-Step BERNINA Air Threader
Easy on-screen stitch selection
Convenient freearm
Total Stitch Control
Grand sewing space

for more information via the BERNINA Website, go to::
L860 Info on BERNINA USA Website

BERNINA L850 Overlocker
The ultimate Overlocker

One-step BERNINA Air Threader
Extremely fast, precise and quiet
Convenient freearm
Total Stitch Control for perfect seams
Grand sewing space

for more information via the BERNINA Website, go to::
L850 Info on BERNINA USA Website

---

If you have questions about any of the above, please eMail us at: send mail to: CurrentSpecials at Bernina World of Sewing dot com
If you have questions about pre-ordering or any other questions about the above, please call the Raleigh store: 919 954 9056 or eMail us at:
send mail to: L8Overlockers at Bernina World of Sewing dot com
---
The BERNINA 4-Series at our store - Give them a Look!


Clicking on the following will take you to the BERNINA USA Website for more information.


Bernina 4 Series - 480
In Our Store - Ready for Sewing - and: For you to Try/Buy!

---

Sonja's Initial Comments after some sewing: (Shown in no particular order)


First-try, noticed, Features:
Same Screen size / appearance as the new 5Series machine.
Excellent lighting
Thread Cutter
Automatic Secure Button
Large bobbin
Freehand system
An easy accessible connection for the BSR if you have a BSR
9mm stitch blade shows the decorating stitches great

(Initial) Summary Comment: With an MSRP of $3399, if you want/need/love a 9mm stitch blade: it would be a pleasure to show you the BERNINA 480. Don't hesitate to stop by the store and any of our staff can assist you - or, eMail us to set up a time for you to try the B480:
eMail to: BWOS4Series@BerninaWorldofSewing.com


Some Examples of Bernina 480 Stitches
(Click on the above to see in a larger-sized image).

---

---

---