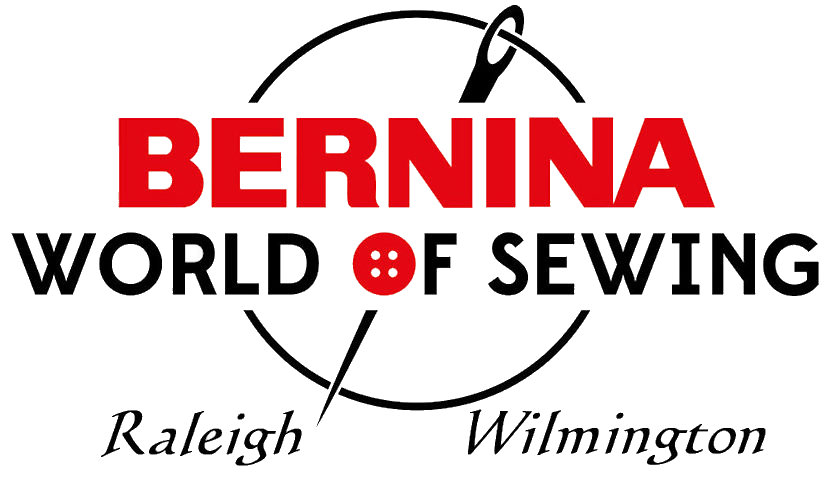 Bernina World of Sewing
A World of Stitching at Your Fingertips!
Oak Park Shopping Center 6013 Glenwood Ave, Raleigh, NC 27612-2601
Raleigh Phone: (919) 782-2945 Hours: Mon-Sat 10-5,Sun 1-5
Wilmington: 4403F Oleander Dr, Wilmington, NC 28403
Wilmington Phone: (910) 769-2775 Hours: Mon-Sat 10-5
---
| | | | |
| --- | --- | --- | --- |
| | | Information for QuiltAlong 2023 | |
Hello Quilt Lovers, 
We're so excited to announce our 2023 Bernina World of Sewing Quilt Along.  The name of the quilt is "A Road Trip - A Block of the Month Adventure Quilt" designed by Kate Colleran and Tammy Silvers. This non-traditional quilt is cleverly designed to represent the United States, with water on both coasts, highways, starry skies, mountains, and trees.  

For those of you who have participated in the past, we have made some significant changes. So here are the highlights to our 2023 Quilt Along program:
A 12-month program which will start in January 2023 and finish in December 2023.  
You work at your own pace. No deadlines, no fabric kits to pick up, or finished blocks to show every month. 
Participants will be responsible for purchasing the pattern and fabric for this quilt. All supplies purchased from BWOS will be discounted 10%.
The pattern contains detailed instructions for the full year.
There is no monthly video or PDF download instructions. 
Enjoy sharing photos, tips, and tricks in a private Facebook. Participation in the Facebook group is not required. 
A Road Trip Quilt Along Sit and Sew will be held in the Raleigh Studio on the last Wednesday of every month in 2023 for participants to work on and help each other with their blocks.  A $10 registration fee will get you an entire day of sewing bliss and '70's tunes. The $10 fee will be deducted from any purchases made in the store on that day. Advance registration is required. A monthly Road Trip Sit and Sew will also be held at the Wilmington store. Dates to be announced.
Now that you're caught up with program details and changes, here's your "Road Trip" Itinerary: 
You'll be excited to know that Amy O'Donnell will be your Tour Guide on this year's adventure.
A kickoff will be held in the Bernina Studio (Raleigh) on Saturday January 7th from 10:30-1pm. 
This quilt requires advanced beginner or intermediate to advanced level quilting skills.  
Finished size, if completed according to the pattern, is 60 x 74 inches
This stash friendly quilt requires 24 - 1/4-yard cuts or fat quarters in various bright colors specified in the pattern and 3 3/8 yards of background fabric. We recommend purchasing 4 yards to allow for a wider outer border and binding. 
The instructions for this quilt are EXCELLENT. They contain great graphics and very detailed instructions. 
Do you like the shop sample?? The shop sample quilt fabrics or similar fabrics will be kitted to save you time in choosing your fabrics. The kits are $72 (discount included-does not include background fabric) and are only available by pre-ordering.
The Road Trip shop sample will be shown at the City of Oaks Holiday Party on December 10th, 2022 and will hang in the store after that. A Wilmington shop sample is being made now. 
Patterns are in stock and available for purchase at any time at either store. 
So, check your schedule and pack your bags - the 2023 Bernina World of Sewing "Road Trip" Quilt Along is about to begin, and we hope you will join us. 
Happy Sewing, Everyone!!! 
Your Friends at BERNINA World of Sewing.
If you have Questions/Comments/Problems/etc.? eMail to: QuiltAlong2023 at Bernina World of Sewing Wilmington dotcom
---
---
---
---
---

© Bernina World of Sewing
6013 Glenwood Ave.
Raleigh, NC 27612
USA
Phone: (919) 782-2945
To contact us about anything on this page or any of our site's Web pages, please:
send mail to: Webmaster for Bernina World of Sewing

This website offers links to other sites outside the purview of Bernina World of Sewing. Bernina World of Sewing claims no responsibility for the content of any linked site and does not necessarily endorse the content of these links. These links are in place for your convenience only.