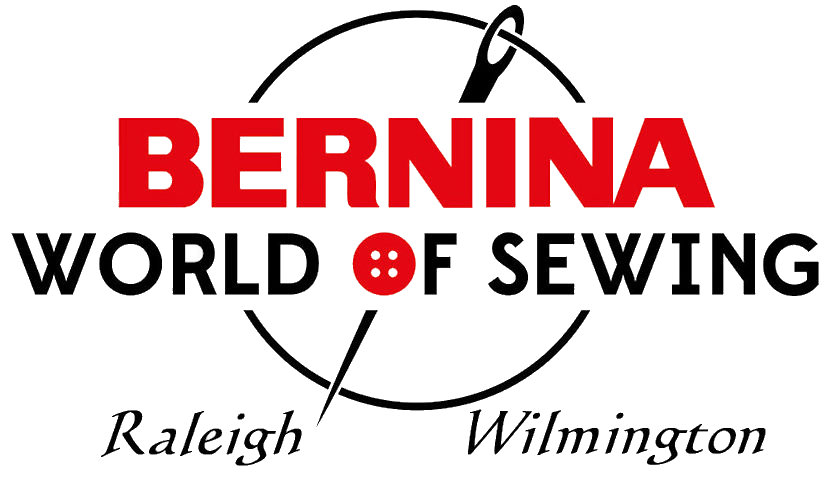 Bernina World of Sewing
A World of Stitching at Your Fingertips!
Oak Park Shopping Center 6013 Glenwood Ave, Raleigh, NC 27612-2601
Raleigh Phone: (919) 782-2945 Hours: Mon-Sat 10-5,Sun 1-5
Wilmington: 4403F Oleander Dr, Wilmington, NC 28403
Wilmington Phone: (910) 769-2775 Hours: Mon-Sat 10-5
Bernina World of Sewing - Raleigh
Classes and Events Information
Special Events

This Web page aims at providing information related to upcoming and recently-held Classes and Events being held at our stores.

Note: Not all current/future classes may be shown here. Stay tuned to other sources of class information from the store including eMail, Social Media and of course: In-store information.

Any questions or comments about the following, please:
send your eMail to: ClassesAndEvents at Bernina World of Sewing dotcom

---



---
---
Special Events
---
---

BERNINA Stitchwise Sew Like a Pro

Two-Day Event
Fri, Oct 6, 2023 9:30am - 4:30pm
Sat, Oct 7, 2023 9:30am - 4:30pm

Description

Come join us and experience a new level of sewing, quilting and embroidery. Discover just how easy and fun it is to sew like a PRO! In this two-day event, you'll learn how to do computerized quilting with a domestic machine, and you'll learn two different ways to accurately place your designs. Play with texture as you learn to couch with an embroidery module, and learn tips and tricks for creating appliques that pop. No need to bring anything but yourself and a willingness to have fun. Lunch is included. Grab your seat at a special price of $129.00 if you sign up before September 20. $159.00 after September 20.

Class Fee: $129.00 ($159.00 after Sept. 20) Instructor: Shelly Fitzgerald

---

To register for this class, stop by the store or go to our Web Shopping site at:
Our Web Shopping Site

---

Instructor Information:
Shelly has been sewing and crafting all of her life. She freely admits to reading all the machine manuals for pleasure and then loves teaching what she has learned to her classes. She makes learning fun, not hard and leaves everyone excited about their new tools and skills.

Shelly is a Bernina Educator. Through her company, Sew Shelly Quilts, LLC, Shelly creates and presents original patterns and classes to bring the extended capabilities of all of the BERNINA products to life. Her classes are rich with techniques and software is her passion.  In addition, she is a 6 year member of the BERNINA Event Team which has brought the Sewapalooza to you.  
---
---

Carousel of BERNINA Creativity Event featuring guest speaker, Mr. Hanspeter Ueltschi, owner of BERNINA International

Tue, Oct 24, 2023 11:00am - 4:00pm

Description

We're absolutely thrilled to announce our upcoming Carousel of BERNINA Creativity Event featuring guest speaker, Mr. Hanspeter Ueltschi, owner of BERNINA International.

The Carousel will take you from one station to another as you construct a beautiful take-home zipper bag using the best in BERINA technology : the new 790PRO , the L890, and the Q series sit down models. We will have drawings, in-store discounts, event specials, and lots of fun! You can even bring your cherished BERNINA machine and have it signed by Mr. Hanspeter Ueltschi himself!

For just $25, hop on the BERNINA Carousel of Creativity with us and in return we will provide you with a store voucher of equal value to be used the day of the event.

Class Fee:  $25.00 Class Coordinator: Store Staff

---

To register for this class, stop by the store or go to our Web Shopping site at:
Our Web Shopping Site

For questions/comments:
Send mail to: HPVisit2023 at Bernina World of Sewing dot com

---
---
---

Anna Maria Horner in Raleigh

Meet and Greet -and- Two Classes with Anna Maria Horner:

Anna Maria Horner Meet & Greet Trunk Show
Thu, Nov 16, 2023 6:00pm - 9:00pm
Wheelhouse Quilt Class with Anna Maria Horner
Fri, Nov 17, 2023 10:00am - 5:00pm
Anna Maria's Applique Stories
Sat, Nov 18, 2023 10:00am - 5:00pm

Description

Anna Maria Horner Meet & Greet Trunk Show

Come join us for a wonderful talk with Anna Maria Horner. You will leave inspired and energized to create. Anna Maria's Blueprint Quilting is a presentation that goes in depth on Anna Maria's unique composition styles, and her adventurous variations on those themes. She will present anywhere between 12-20 quilts that illustrate her creative process as a fine artist, fabric designer and self-taught quilter.
Wheelhouse Quilt Class with Anna Maria Horner

Anna Maria offers guidance on building this beautiful design from the centered feature fabric out. Anna Maria will share demos on each part of the quilt, focusing on fabric selection, precision fussy cutting and applique tips. This quilt is deceivingly simple and is destined to become a favorite handmade treasure.
Anna Maria's Applique Stories

Combining Anna Maria's interest in composing vignettes and handwork, she presents a class that covers all of the techniques necessary to create a visual feast of fabric and stitching. Multiple techniques for applique, raw and turned, by machine and by hand, are shared on top of a lesson in composition. Learn to see fabrics in a completely different way as you hunt for special elements to join as starring roles or the supporting cast in your applique story. Projects can be framed as artwork, become a special cushion or the beginning of a larger quilt.


NOTE: For the Wheelhouse Quilt and Applique Stories Class Days, students need to bring their own sewing machines in good working order. No refunds if cancelled within 7 days of the class.

Fees:
Meet and Greet (Evening Session) Fee:  $40.00
Wheelhouse Quilt (Full-Day Class) Fee:  $200.00
Applique Stories (Full-Day Class) Fee:  $200.00

---

To register for this class, stop by the store or go to our Web Shopping site at:

---

Instructor Information:

---
If you have any trouble with the above: Please eMail your comments to:
send your eMail to: ClassesAndEvents at Bernina World of Sewing dotcom
---
---