---
Bernina World of Sewing Downton Abbey 2015


Inspired by Downton Abbey Fabric from andover Fabrics
And by the book: Take 5 Fat Quarters, written By Kathy Brown, Published by Martingale

(Click, above, to view the initial fabrics for this Gathering).


(Click, above, to view the arrived-in-2015 Downton Abbey Eqyptian fabrics).

---
This First-Half of 2015 Gathering has Ended. See You at the Next Gathering!
This Web page is aimed at being a central repository of information for our Winter/Spring 2015 Gathering Inspired by the Downton Abbey Fabric from andover Fabrics and by the book: Take 5 Fat Quarters, written By Kathy Brown, Published by Martingale. The information in this page is intended especially for those of you who are participating in the Gathering.
For participating in the Gathering, you are reminded that:
The Gathering participants purchased, from our store, the book and fabric used during the Gatherings.
Gathering participants should have experience in sewing and in making quilts.
Gathering participants, surely, interact. However, the Gathering is not a class . Each participant is expected to be able to manage his/her own project.
The store will not be able to arrange and set-up class machines for use during the Gatherings. Gathering participants should bring to the Gathering what they need for sewing/cutting during the Gathering.
Due to the numerous options / aims / of each Gathering participant, space at the Gathering is limited.
Gathering Participants must be pre-signed up. "Drop in" participants, due to classroom class size and machine space limitations will not be accommodated. Sorry!
If a Gathering participant decides to "drop out" of the 2015 Gatherings, it would be appreciated if that were known by the store; there may a wait-list and, if a Gathering slot opens - Persons on the wait-list will be notified of such.
Further information will be available on this Webpage and via eMail sent to Gathering participants.
Thank you for your participation - and, we look forward to seeing your beautiful work as 2015 progresses!
Those who sign up and are participating in this Gathering were contacted in early January, 2015. The Gathering is now fully subscribed. A "wait list" has been started and if openings arise as the year moves forward those on the wait list will be contacted. For those participating and have been contacted, the final session for the 2015 Gathering for Downton Abbey fabric was held: Tuesday, April 21 at the store. Again: Please do NOT show up for Gatherings if you have not been contacted (there, simply, is not sufficient space for "walk-in" participants). Sorry!
---
April, 2015
Thank you for your cooperation / participation with this first-half of 2015 Gathering.
It is always a pleasure to see you, work with you, and to see your success.
See you at the store during normal hours, in a class - and/or at the next Gathering!
Sonja
April, 2015
Another Contribution to the Day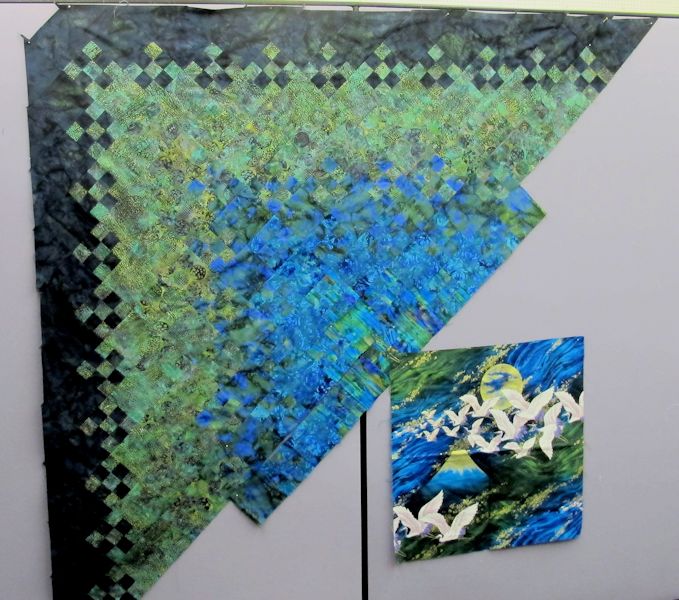 ---
---
March, 2015
It was wonderful to have you-all show up for the March Gathering and, in turn, for us to see each other's progress. Thank you!
See you in April!
Sonja
March, 2015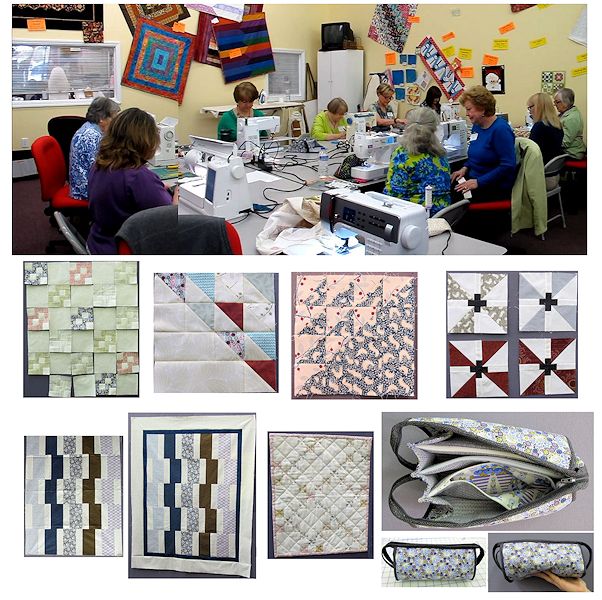 ---
January/February, 2015
Thank you for your participation in our first meeting of this planned four-month Gathering.
The weather got in the way of our February session. We caught each other in March!
I had some time to work on some variations and, if you have any comments: I look forward to hearing from you - at the store, at a Gathering, on the Gathering BLOG, whatever!
As my progress went along... I made a few too many equal-triangle squares - and, as a result, I had some fun examining some alternatives. (Of course, now... I may have to make more squares....)
See you in March!
Sonja
February, 2015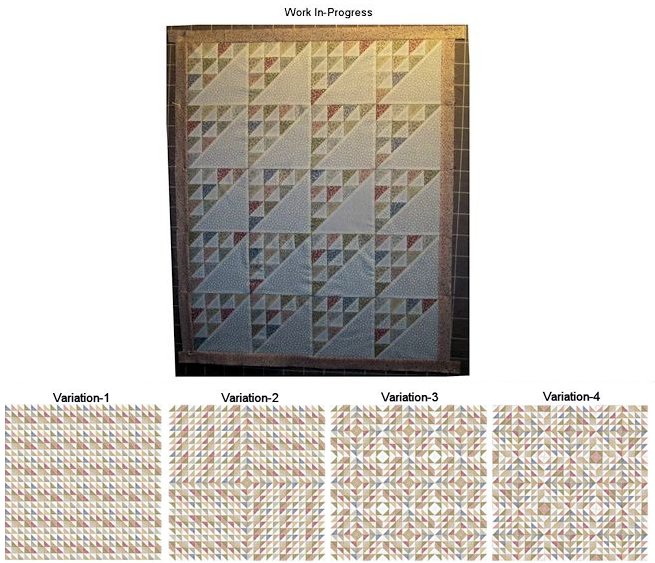 ---
In January, we had a great start and it was fun to have some new Gatherers! At the end of the day, there was no difference between the newcomers and the old-timers! Nice.
This Gathering is special in that we have a lot of different projects and different sizes-of-planned-pieces. It will be fun to see how everyone's work comes about.
Sonja
January 20, 2015

Although not directly tied to this Gathering, we enjoyed seeing Jane's piece that she has completed (less the binding) that came about primarily from the end-2014 Blooming Nine Patch Gathering. Thank you, Jane for sharing - and congratulations!

---

© Bernina World of Sewing
6013 Glenwood Ave.
Raleigh, NC 27612
USA
Phone: (919) 782-2945
To contact us about anything on this page or any of our site's Web pages, please:
send mail to: Webmaster for Bernina World of Sewing

This website offers links to other sites outside the purview of Bernina World of Sewing. Bernina World of Sewing claims no responsibility for the content of any linked site and does not necessarily endorse the content of these links. These links are in place for your convenience only.