---
Bernina World of Sewing Evening Gathering 2016
| | | |
| --- | --- | --- |
| | Gemstone or Blooming Nine Patch | |
---
This Web page is aimed at being a central repository of information for our Evening 2016 Gathering. The Gathering projects are based upon either: The Gemstone pattern from Wing and a Prayer Design or Blooming Nine Patch inspired by the book: Tradition With A Twist Book By Blanche Young & Dalene Young Stone.
The information in this page is intended especially for those of you who are participating in the Evening Gathering.
For participating in the Gathering, you are reminded that:
The Gathering participants purchased, from our store, the pattern chosen to be part of this Gathering and the fabric needed for this quilt..
Gathering participants should have experience in sewing and in making quilts.
Gathering participants, surely, interact. However, the Gathering is not a class . Each participant is expected to be able to manage his/her own project.
The store will not be able to arrange and set-up class machines for use during the Gatherings. Gathering participants should bring to the Gathering what they need for sewing/cutting during the Gathering.
Due to the numerous options / aims / of each Gathering participant, space at the Gathering is limited.
Gathering Participants must be pre-signed up. "Drop in" participants, due to classroom class size and machine space limitations will not be accommodated. Sorry!
If a Gathering participant decides to "drop out" of the 2016 Gatherings, it would be appreciated if that were known by the store; there may a wait-list and, if a Gathering slot opens - Persons on the wait-list will be notified of such.
Further information will be available on this Webpage and via eMail sent to Gathering participants.
Thank you for your participation - and, we look forward to seeing your beautiful work as 2016 progresses!
Those who signed up and are participating in this Gathering have been contacted. For those participating and have been contacted, the next session for the 2016 Evening Gathering will held: Monday, December 12, 2016 5:00pm at the store - and, if you have time to do so: Show-and-Tell at the Saturday Bernina Club December 3, 2016 10:00am-12:00pm.
December 4, 2016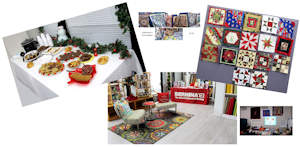 (Clicking above will enable a one-minute video of the Show/Tell Gathering quilts).
---
December 12, 2016
Jelly Roll Night
---
From the Webmaster: I enjoyed seeing Diane's piece on the wall. I think it will be a fun wall-hanging / discussion piece.
(Click on the following to see in a larger-sized image)

---
November 14, 2016
---
We all were working on different matters/phases of this project and it is a very interesting/terrific time, as our projects are coming to completion. It has been a lot of work - but: A pleasure! If you have time to stop by and show your work at the Saturday, December 3, 10:00am-12:00pm Bernina Club: Thank you, in advance.

Sonja
---
---
October 10, 2016, 2016
---
A small, but important group this almost-finished 2016 Gathering. I look forward to a full-showing of our work in December!

Sonja
---
September 12, 2016
---
We had a nice, relaxing evening - with some good progress! Congratulations.

Sonja
---
August 8, 2016
---
We are slowly-but-surely making progress. Decisions are having to be made! Looking good, and with Fall arriving we look forward to seeing each other's terrific work.

Sonja
---
July 11, 2016
---
A fun night! Always, something new "comes about". Good!

Sonja
---
June 13, 2016
---
With the Summer schedule in-place for us all, we had a small but important group! It was great to see your in-progress work.

Sonja
---
May 9, 2016
---
It was fun to see you-all after my vacation - and, to see your work progress. Good luck, as we enter summer time.

Sonja
---
April 11, 2016
---
Thank you for sharing photos of your April work. I enjoyed viewing such - as I was on vacation! Looking good!!!

Sonja

---
March 14, 2016
---
What a nice evening of working together and seeing everyone's efforts coming about in such a beautiful way. Good luck with whatever you have time to do at home; however, we "work" during the Gathering again in April!

Sonja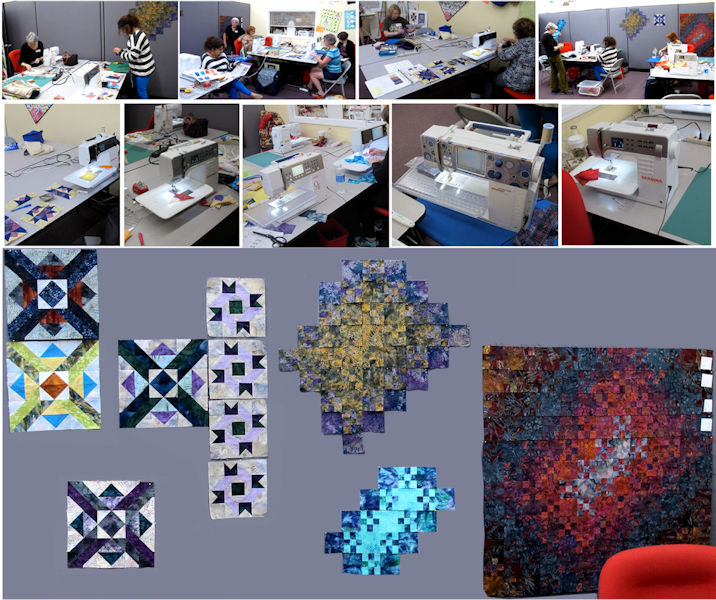 ---
February 8, 2016
---
We had a GREAT start. Good luck, as your work(s) move along.

Sonja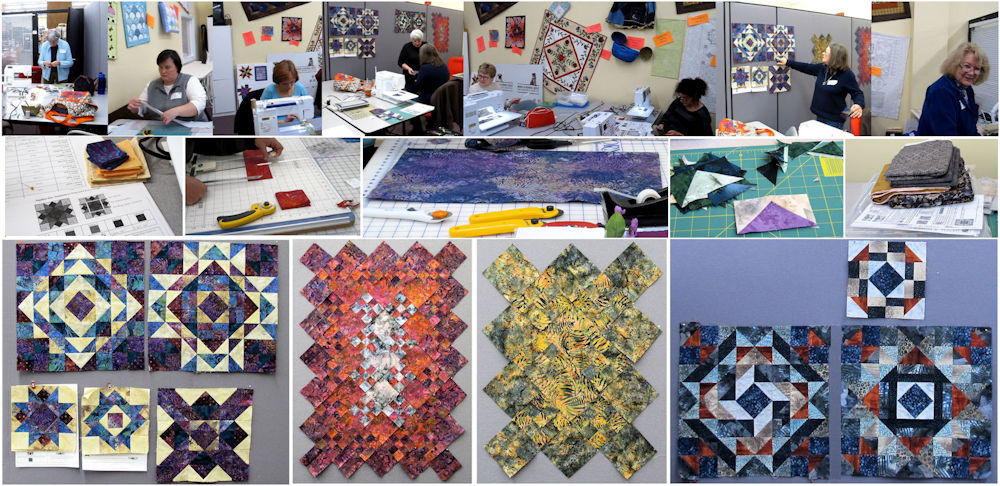 ---
January 18, 2016
---
Thank you for attending the January 18 "information about" and organization/topic-choosing for the Evening Gathering. It was interesting to have the discussions about the two potential projects - and, I know that whichever project you begin in February will be terrific - and, challenging!

I look forward to working beside you.
Sonja
---
---

© Bernina World of Sewing
6013 Glenwood Ave.
Raleigh, NC 27612
USA
Phone: (919) 782-2945
To contact us about anything on this page or any of our site's Web pages, please:
send mail to: Webmaster for Bernina World of Sewing

This website offers links to other sites outside the purview of Bernina World of Sewing. Bernina World of Sewing claims no responsibility for the content of any linked site and does not necessarily endorse the content of these links. These links are in place for your convenience only.