This project ended with the final Gathering held on November 26, 2018.
This Web page was aimed at being a central repository of information for our 2018 Millefiori Gathering. The Gathering was based upon Millefiori or La Passacaglia quilts involving hand-pieces with a running stitch as discussed in 2017 during a class taught at Bernina World of Sewing by Shirley Usry.
This Gathering took place monthly, and started in September 2017, and continued:
The last Monday of each month, 5:30-8:00pm.
The FINAL Millefiori Gathering was November 26, 2018. We are ending this project for now. Thank you for participating!
For participating in the Gathering, you were reminded that:
The Millefiori Gathering participants have participated in our Millefiori classes and wish to expand their experience.
For the 2018 Millefiori Gathering, a yearly fee of $30 is charged when the attendee commits to the Gathering.
Gathering participants, surely, interact. However, the Gathering is not a class . Each participant is expected to be able to manage his/her own project.
Gathering participants should bring to the Gathering what they need for sewing/cutting during the Gathering.
Due to the numerous options / aims / of each Gathering participant, space at the Gathering is limited.
Gathering Participants must be pre-signed up. "Drop in" participants, due to classroom class size and machine space limitations will not be accommodated. Sorry!
If a Gathering participant decides to "drop out" of the 2018 Gatherings, it would be appreciated if that were known by the store; there may a wait-list and, if a Gathering slot opens - Persons on the wait-list will be notified of such.
Further information will be available on this Webpage and via eMail sent to Gathering participants.
The 2018 Millefiori Gathering was over-subscribed. If you wish more information about the monthly 2017/2018 Millefiori Gathering (last Monday of each month):
send mail to: millefioribwos at Bernina World of Sewing dot com
---
---
November 2018
We had a lot of "quiet time" hand-sewing - and: Interesting discussions! Enjoyable. Thank you.
Sonja
---
Interaction/More-Sharing Regarding the Millefiori Gathering 2017/2018
A BLOG has been set up, aimed to be used by those of you who are participating in the 2017/2018 Millefiori Gathering at our store. The BLOG is just getting started. If you have time to do so, give the Millefiori BLOG a try. Thank you, in advance.
(The BLOG, after a Gathering has been held, points to the Gathering images in larger-sized images). To access the BLOG, just click on:
BWOS Millefiori 2017/2018 BLOG
(The BLOG will, after a Gathering has been held, point to the Gathering images in larger-sized images).
If you have any questions/comments/problems, just:
send mail to: millefioribwos at Bernina World of Sewing dot com
---
---
2018/2017
---
---
October 2018
The year is "winding down" and it is wonderful to see - each other - and, one's work! The discussions are, also, special. Thank you.
Sonja
---
---
September 2018
Another interesting-discussions and hand-sewing evening. Thank you, for both of!
Sonja
---
---
August 2018
"Back to Normal". It was great to see some of the Summer-Vacation people back in action and to see everyone's beautiful work. Thank you.
Sonja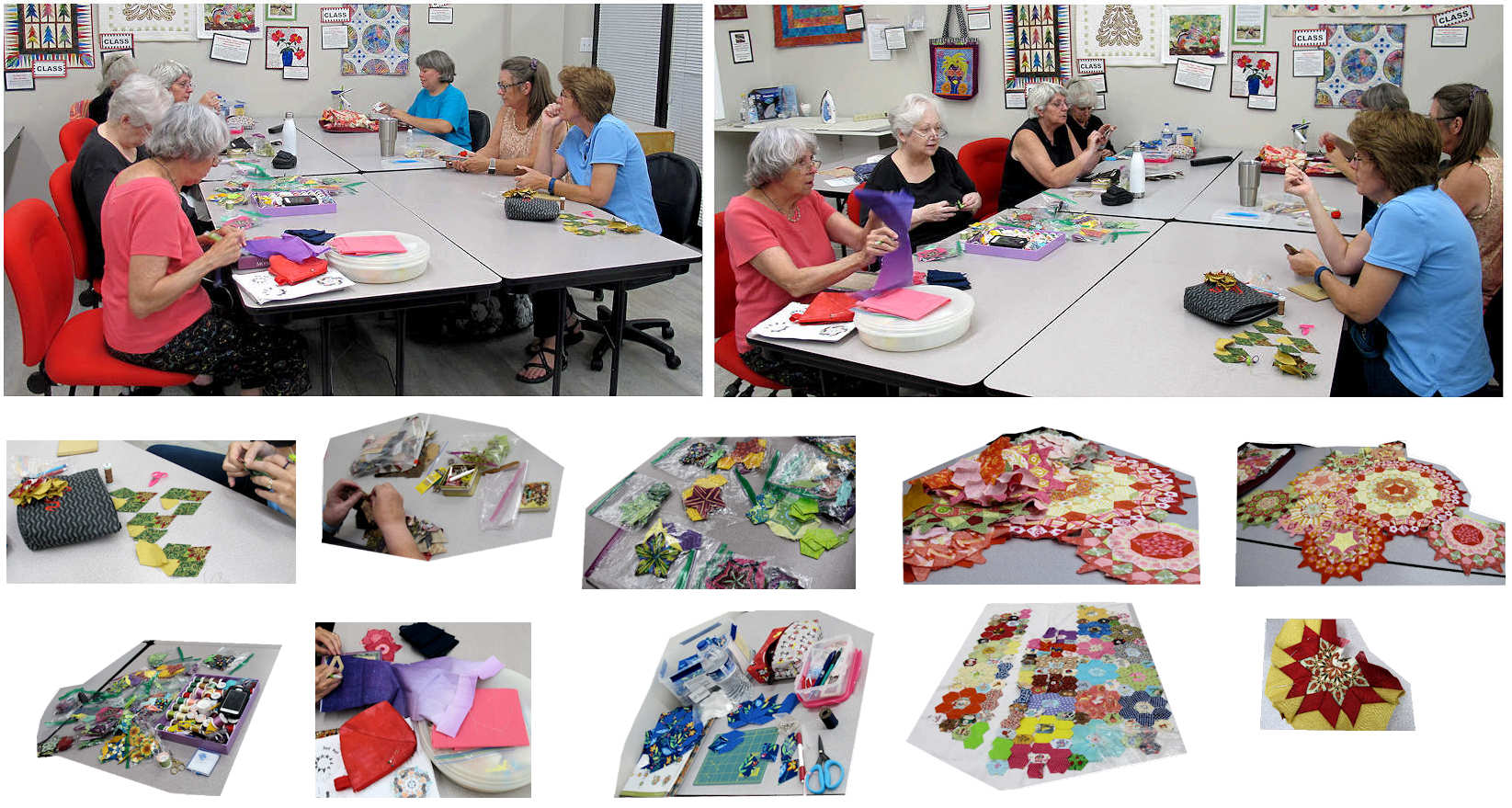 ---
Arrived Here Sept. 4, 2018 - Thank you, Nancy!

---
---
July 2018
Summer Doldrums! Soon: "Back to Normal". An enjoyable July evening while looking forward to the end-of-Summer, soon.
Sonja
---
---
May 2018
An "early end" to the evening, due to the VERY heavy rain! Ok -- We all made it home safely. It was still a "productive" evening and a pleasure to share the time/discussions. Thank you. Have a good Summer!
Sonja
---
---
April 2018
Handwork: Terrific. Everyone is working at their own speed; the monthly get-togethers inspire / "push" me to keep going!
Sonja
---
---
March 2018
More beautiful work. The March weather has been defeated! Spring has arrived. Good.
Sonja
---
---
February 2018
Some beautiful work. Congratulations - to us!
Sonja
---
---
January 2018
It has been fun to meet new members of our group - and, to see the group "growing"! It is a positive sign and it is clear that building this Millefiori group was a good decision -- and the monthly get-togethers are inspiring to us all.
Sonja
---
---
---
November 2017
See you in January, 2018. Time flies! We are taking a break end-December. Have a perfect start to 2018.
Sonja
---
---
---
October 2017
Another fun / relaxing evening. And: Productive, even!
Have a good month.
Sonja
---
---
September 2017
I am happy that I "re-discovered" hand-piecing. I enjoy hand-piecing and it will be a pleasure to be doing that together - with you. I look forward to the next 12 months of "Millefiori" as a complement to all of our other projects.
Sonja
---
---

© Bernina World of Sewing
6013 Glenwood Ave.
Raleigh, NC 27612
USA
Phone: (919) 782-2945
To contact us about anything on this page or any of our site's Web pages, please:
send mail to: Webmaster for Bernina World of Sewing

This website offers links to other sites outside the purview of Bernina World of Sewing. Bernina World of Sewing claims no responsibility for the content of any linked site and does not necessarily endorse the content of these links. These links are in place for your convenience only.