This Web page is aimed at being a central repository of information for our 2022 Daytime Gathering. The Gathering in 2022 is being held in two five-month time-slots: Gathering time-slot-1 was in January-thru-May and Gathering time-slot-2 is in August-thru-December. January-thru-May's project was a Blooming 9-Patch. The August-thru-December project is participant's choice of selected patterns from the book: Urban Quilting By Wendy Chow; there will be a $50 fee for the August -thru- December Gathering as was the case for January-thru-May.
The 2022 Gathering will take place monthly and will be held at the Raleigh store's BERNINA Studio:
The third Tuesday of the month, 10:30am - 4:00pm.
The next Daytime Gathering will be on December 20, 2022.
For participating in the Gathering, you are reminded that:
The Gathering participants purchase, from our store, books or other patterns chosen to be part of the Gatherings and the fabric needed for quilts created during the Gatherings..
The Gathering participant, by joining the Gathering, is making a commitment to make a solid effort at completing the Gathering project for that five-month period.
For the 2022 Gatherings, the January-thru-May fee and the August thru December are each $50. The fee is non-refundable once charged.
Gathering participants should have experience in sewing and in making quilts.
Gathering participants, surely, interact. However, the Gathering is not a class, although Sonja will be available to assist during the five-month Gathering session.
The store will not be able to arrange and set-up class machines for use during the Gatherings. Gathering participants should bring to the Gathering what they need for sewing/cutting during the Gathering.
Due to the numerous options / aims / of each Gathering participant, space at the Gathering is limited.
Gathering Participants must be pre-signed up. "Drop in" participants will not be accommodated. Sorry!
Further information will be available on this Webpage and via eMail sent to Gathering participants.
The Gatherings are normally over-subscribed. If you wish more information about participating in the monthly Daytime (third Tuesday) Gatherings:
send mail to: GatheringInfo at Bernina World of Sewing dot com
---
The Summary of: Daytime Gathering - November 2022
Another successful month's effort by we-all. Well done! The discussions, also, were fine: We "firmed up" a Pattern Choice approach (a pattern/BOM that YOU find that fits your 2023 plans) supplementing the 2023 plans for some of us who will choose to use patterns from the "Quilt Recipes" book by Jen Kingwell or another Jen Kingwell pattern. Which ever path a Gathering Participant takes in 2023: The path will be for the entire year; Daytime Gathering 2023 will be for the year -- with June/July being "Summer Break" months (no meetings in June/July).
Sonja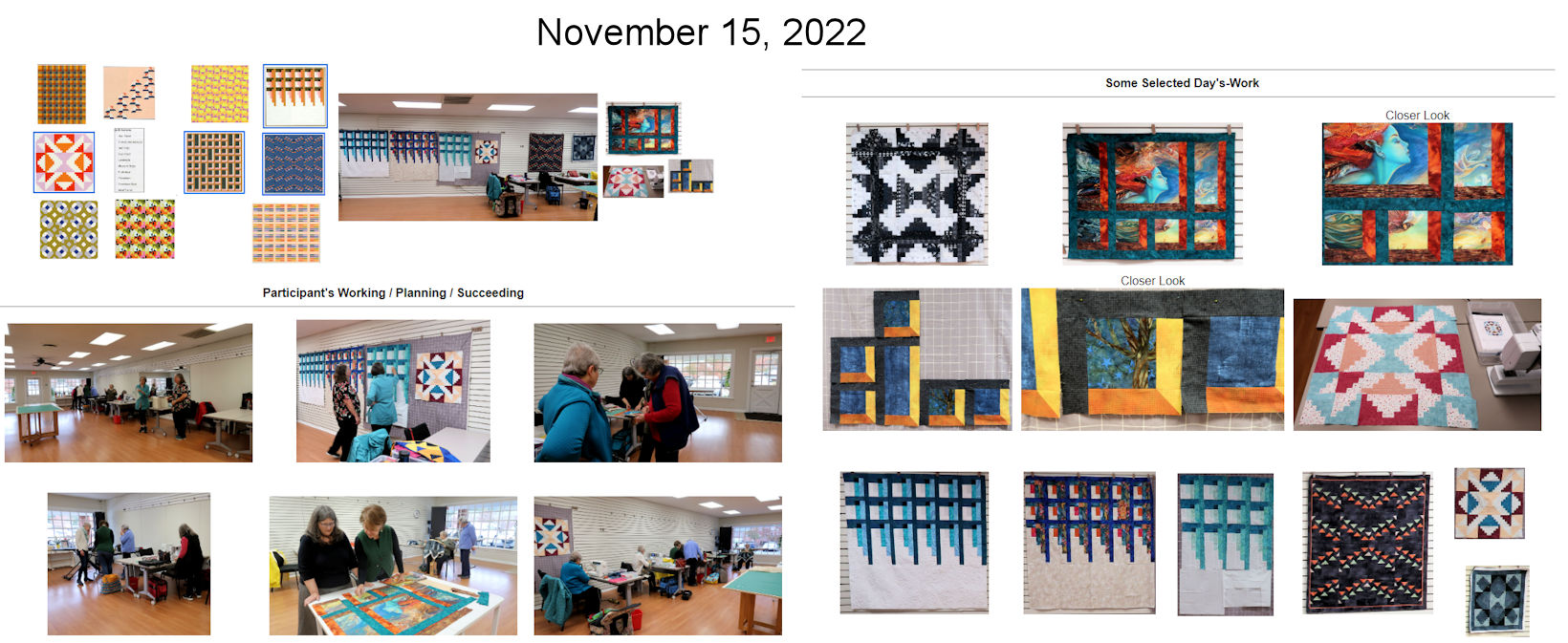 ---
Interaction/More-Sharing Regarding the Urban Quilting and the Blooming 9-Patch Theme Gatherings 2022
A BLOG has been set up, aimed to be used by those of you who are participating in the 2022 Gatherings at our store. To access the BLOG, just click on:
BWOS Urban Quilting and Blooming 9-Patch Gathering BLOG
(The BLOG will, after a Gathering has been held, point to the Gathering images in larger-sized images).
---
---
---
Previous Month's Summaries
---
Daytime Gathering - October 2022
This month, just eight of us could fit the month's meeting into our busy early-fall schedule. A good meeting, though, including some fine discussions plus "finalizing" some thoughts for the Daytime 2023 Gathering: A full year project instead of the two five month's schedule we took in 2022. Stay tuned as final plans move forward.
Sonja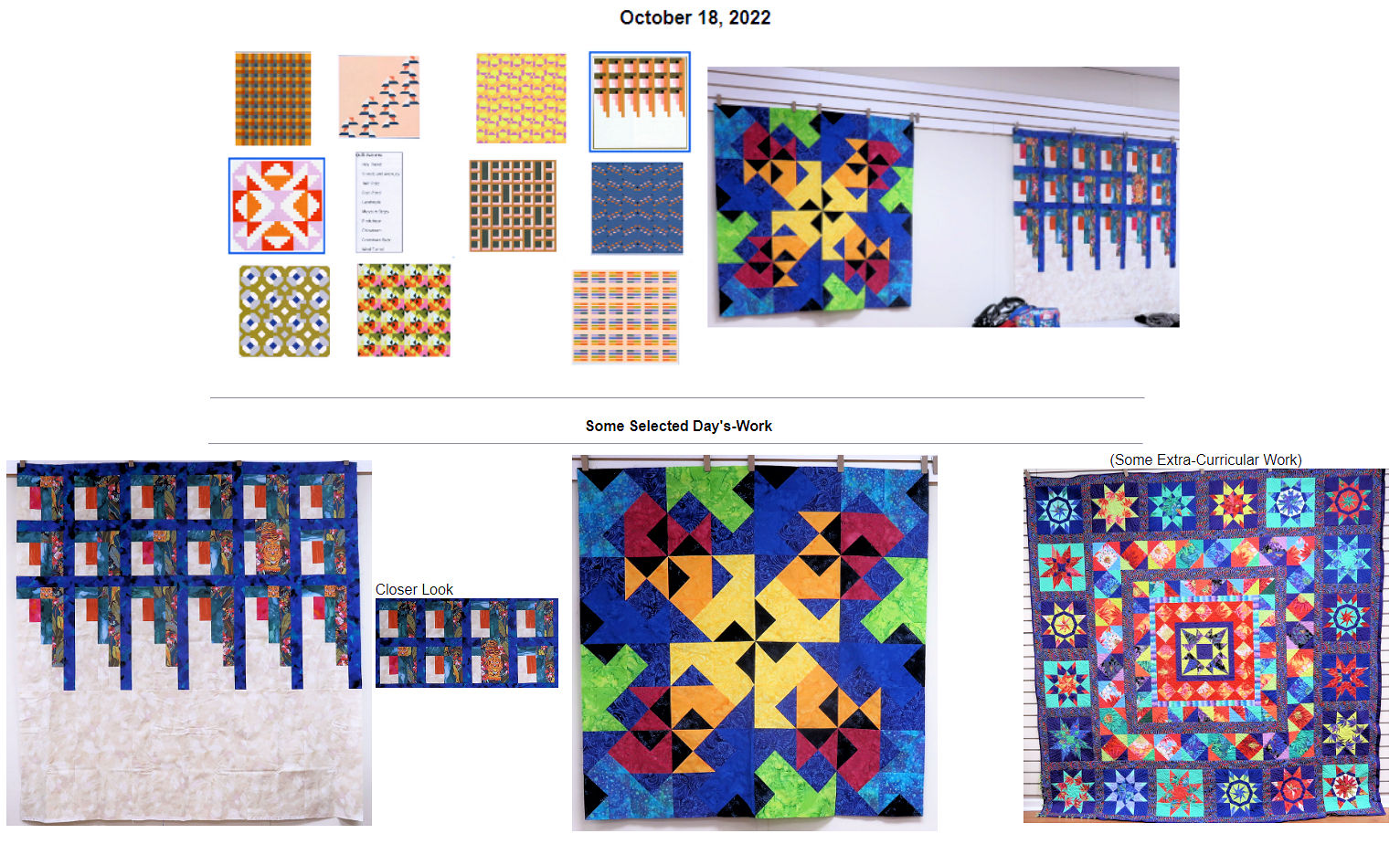 ---
Daytime Gathering - September 2022
A fun / productive day. We are making progress with our pieces and it was great to see everyone's work start to come forth.
Sonja
---
Daytime Gathering - August 2022
What a successful Spring Gathering 2022 we had.
It was great to see you and to be with you, again, as we move into the Fall Daytime Gathering. Good luck to us all as we start our Fall project(s).
Sonja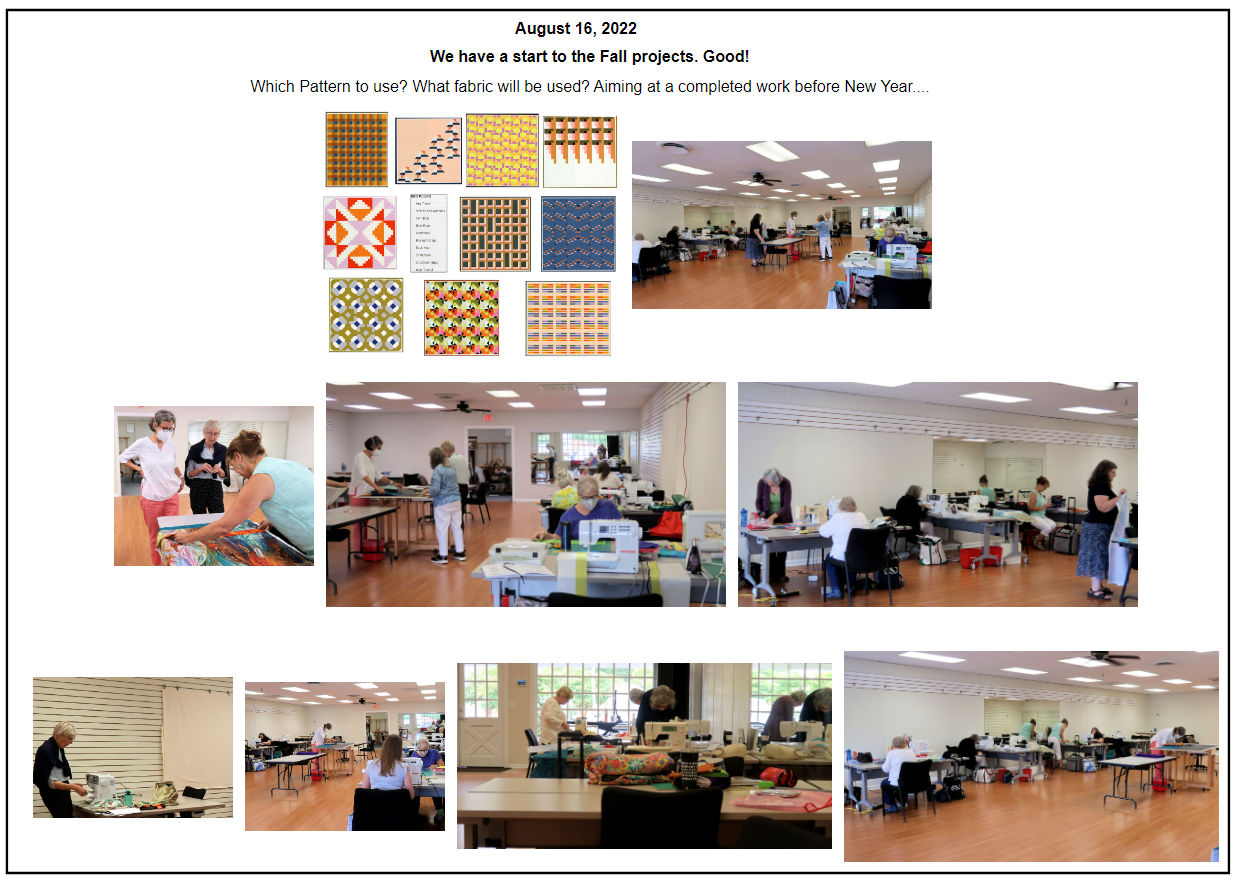 ---
Daytime Gathering - May 2022
What a successful Spring Gathering 2022 we had.
Thank you for making this happen. You are a great group.
Stay Cool, until we see each other again in August.
Sonja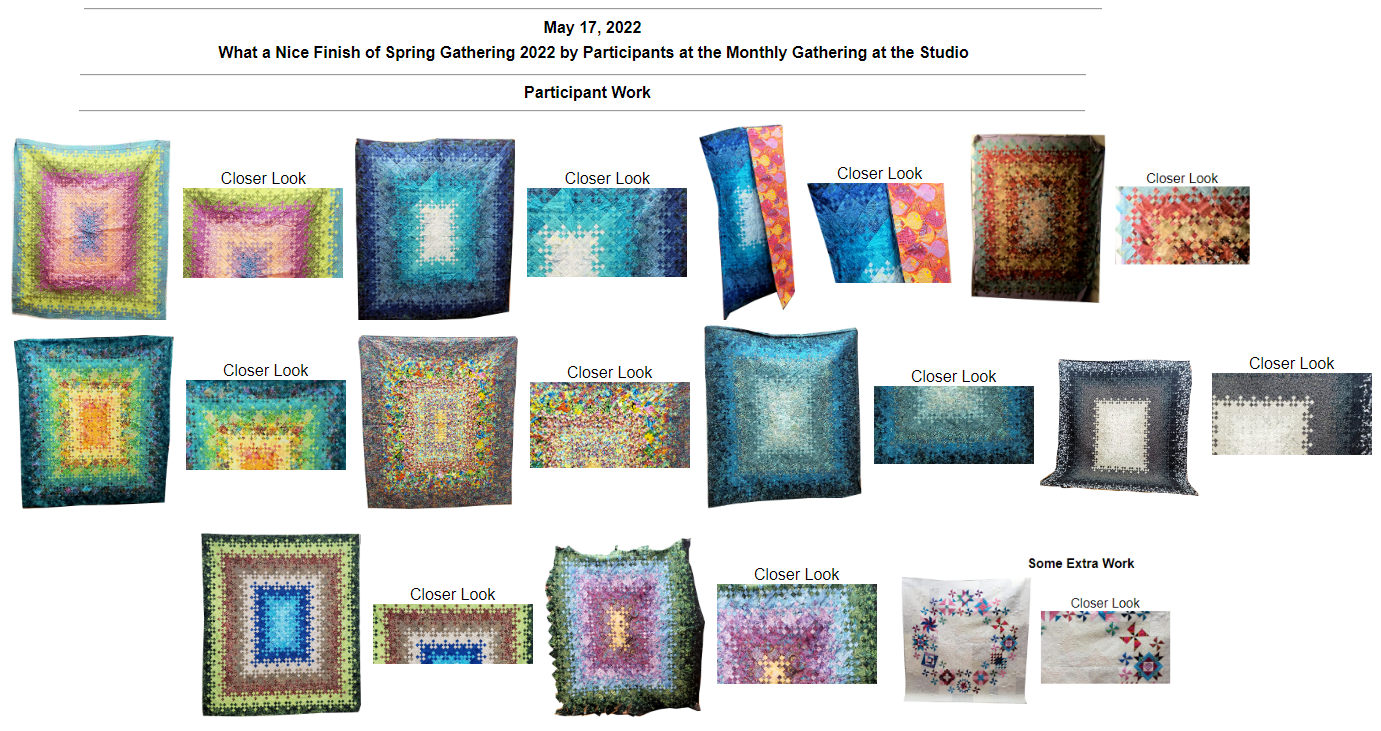 ---
Daytime Gathering - April 2022
Another hard-working / successful day in the Studio. Your work looks great.
We started discussions about Fall 2022 Daytime Gathering projects: I look forward to hearing about / discussing additional project possibilities: Time is flying - We will decide, soon.
Sonja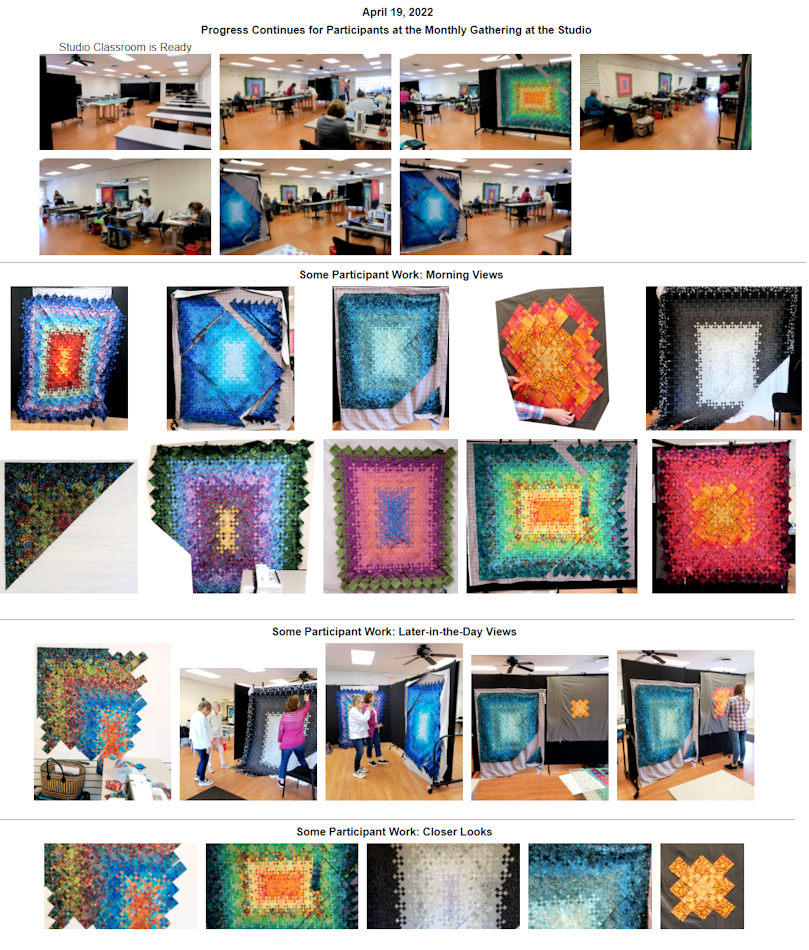 ---
Daytime Gathering - March 2022

It looks like walking through a Quilt Gallery. What a beautiful impression of colors. Well done, Gatherers!
Sonja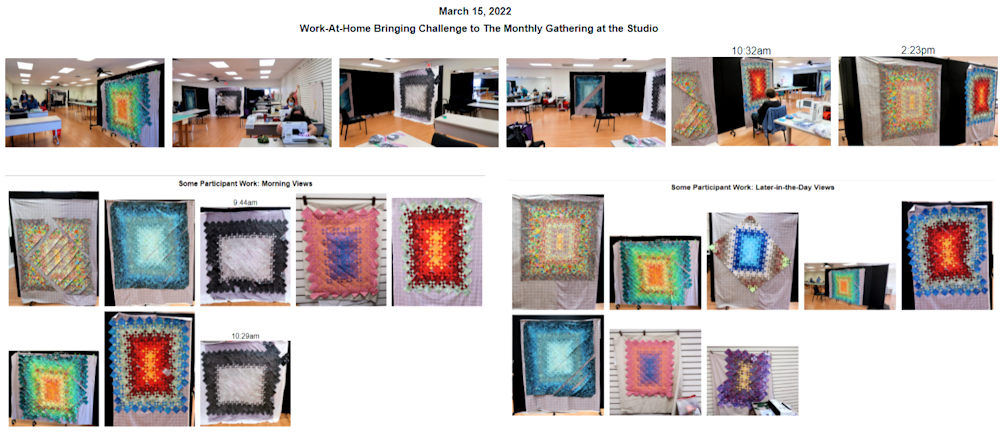 ---
Daytime Gathering - February 2022

Everyone was working hard - Design Wall and All: Making good progress; it is great to see.
Sonja

---
Daytime Gathering - January 2022
Hi everyone-
We had an absolutely perfect "First Gathering" Day at the Studio after two years of Zooming, etc.
Everyone was excited and ready to start this project's Blooming 9-Patch quilt.  It was fun to see everyone's color combinations, talking to friends that we had not seen in awhile – and getting to know the new members of the group.  Wonderful.

The new Studio works well; everyone had their own table with "social distancing" and the sun peeking through the window was an extra bonus.

I look forward to seeing you in February if not before.
Sonja

---
---
---