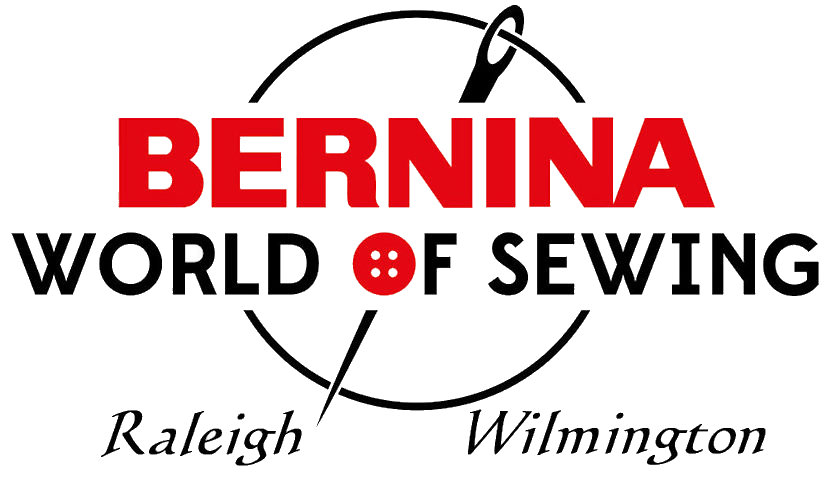 Bernina World of Sewing
A World of Stitching at Your Fingertips!
Oak Park Shopping Center 6013 Glenwood Ave, Raleigh, NC 27612-2601
Raleigh Phone: (919) 782-2945 Hours: Mon-Sat 10-5,Sun 1-5
Wilmington: 4403F Oleander Dr, Wilmington, NC 28403
Wilmington Phone: (910) 769-2775 Hours: Mon-Sat 10-5
Pattern Choice Daytime Gathering 2023
Pattern Choice Daytime Gathering

---

---
The Daytime Gathering in 2023 is a year-long Gathering while taking a "Summer Break" in June/July. The Daytime Gathering projects are Pattern Choice: Participants find a pattern that fits their 2023 aims. Some will choose patterns from the book: Quilt Recipes By Jen Kingwell. Some will choose another Jen Kingwell pattern - and, some will find another pattern! A true Participant's Choice Daytime Gatherings for 2023.
The 2023 Daytime Gathering will take place monthly and will be held at the Raleigh store's BERNINA Studio:
The third Tuesday of the month, 10:30am - 4:00pm.
The next Daytime Gathering will be on October 17, 2023.
For participating in the Gathering, you are reminded that:
The Gathering participants purchase, from our store, books or other patterns chosen to be part of the Gatherings and the fabric needed for quilts created during the Gatherings..
The Gathering participant, by joining the Gathering, is making a commitment to make a solid effort at completing the Gathering project for that five-month period.
For the 2023 Daytime Gathering, the yearly fee is $75. The fee is non-refundable once charged.
Gathering participants should have experience in sewing and in making quilts.
Gathering participants, surely, interact. However, the Gathering is not a class, although Sonja will be available to assist during the five-month Gathering session.
The store will not be able to arrange and set-up class machines for use during the Gatherings. Gathering participants should bring to the Gathering what they need for sewing/cutting during the Gathering.
Due to the numerous options / aims / of each Gathering participant, space at the Gathering is limited.
Gathering Participants must be pre-signed up. "Drop in" participants will not be accommodated. Sorry!
Further information will be available on this Webpage and via eMail sent to Gathering participants.
The Gatherings are normally over-subscribed. If you wish more information about participating in the monthly Daytime (third Tuesday) Gatherings:
send mail to: GatheringInfo at Bernina World of Sewing dot com
---
Daytime Gathering - September 2023
Nina brought a beautiful AND delicious coffee cake! -- Thank you, Nina. It was the start to a great day; we could see a lot of progress work-wise. Dawn brought her finished quilt: Congratulations to her!!
I look forward to seeing you-all in November.
Sonja
---
Interaction/More-Sharing Regarding the Pattern Choice Daytime Gathering 2023
A BLOG has been set up, aimed to be used by those of you who are participating in the 2023 Daytime Gathering at our store. To access the BLOG, just click on:
BWOS Daytime Pattern Choice Gathering BLOG
(The BLOG will, after a Gathering has been held, point to the Gathering images in larger-sized images).
---
---
---
Previous Month's Summaries
---
---
---
Daytime Gathering - May 2023
We ended the first-half of 2023's Daytime Gathering with this May session. It has been an enjoyable/productive five months and I am already looking forward to the Fall and the "return to action". In the meantime, have a safe June/July during our break from the Gatherings.
See you in the Fall! Time flies.
Sonja
---
---
Daytime Gathering - April 2023
We missed a few of you due to health issues -- we, of course, missed seeing/working with those who were not able to make it in April. We did, though, have a delightful day and we were able to "spread out" the work areas/space: Even more than usual!
See everyone in May. Remember, we take a Summer Break in June/July.
Sonja
---
---
Daytime Gathering - March 2023
Another productive day. Mickey brought her almost-finished 2023 top; it is really beautiful with Stonehenge fabrics (one of my favorites): Well done, Mickey. On my end, I finished my 2022 binding and I look forward to going back to working on my 2023 blocks!!
Sonja
---
---
Daytime Gathering - February 2023
A busy day -- and productive, as well. Nice to see your 2022 completed-projects. Thank you for sharing and for your work!
Sonja
---
---
Daytime Gathering - January 2023
We have a start to 2023! It was terrific to be "back" in Gathering action and exciting to see/discuss all the patterns that will be attacked as the months go by.
Sonja
---
---
---
---

© Bernina World of Sewing
6013 Glenwood Ave.
Raleigh, NC 27612
USA
Phone: (919) 782-2945
To contact us about anything on this page or any of our site's Web pages, please:
send mail to: Webmaster for Bernina World of Sewing

This website offers links to other sites outside the purview of Bernina World of Sewing. Bernina World of Sewing claims no responsibility for the content of any linked site and does not necessarily endorse the content of these links. These links are in place for your convenience only.