Gatherings Gallery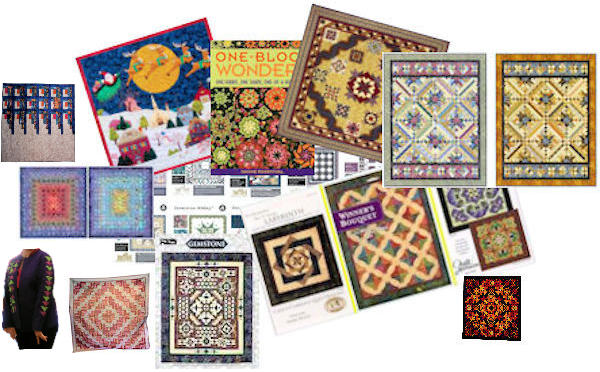 The Gatherings are (generally) held once a month at Bernina World of Sewing. Participants in the Gatherings are customers and Bernina World of Sewing staff. The Gatherings differ from a traditional "bee" in that Gathering participants all work on a similar piece and the Gatherers agree to purchse at Bernina World of Sewing the Gathering project's pattern and fabric-needed to complete the piece. The Gathering participant, of course, often makes modifications to the pattern-suggested instructions and fabric color/etc. This leads to participant-unique results and, as the projects move along, we have Gathering Web pages and BLOGs that assist in keeping "memories" of how the projects evolved.
The Gatherings started in 2011 at Bernina World of Sewing as a Monthly Daytime happening and has continued in that fashion as subsequent Gatherings came about. In 2016 there was sufficient interest to add an Evening Gathering, also held monthly.
Gathering projects have a limited timeframe objective -- generally six months to a year for the project's duration.
General titles for the Gatherings have been: (Dates shown overlap indicated years; the end of the project is not year-specific).

2011
Piecemakers

Patriots in Petticoats

2014
Downton Abbey

Blooming Nine Patch

2015

Pattern Choice(Labyrinth, Winners Bouquet, Celebration)

Gemstone

| | |
| --- | --- |
| | |

2017
Modern Neutrals (Both the Daytime and Evening Gatherings)

2018
Pattern Choice (Both the Daytime and Evening Gatherings)

2019
Pattern Choice and Log Cabin 2019

2020
BOM Theme and Log Cabin 2020
This Web page is a place for us to "store" photos of completed pieces. Thank you, Gathering participants and you - for taking the time to view this Web page.
On this page, we present some of those special pieces.
Last Update: August 31, 2020

(Click on any of the following images to see in a larger-sized image).

---

To see other Galleries at Bernina World of Sewing, click on:


---